Women Coats & Shawls by Pendleton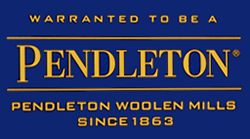 When you want to look great, and be fashion forward, while wearing a classic design, Pendleton would be the label you would turn to. Here at The New Paris Shop, we love to celebrate the pedigree of a company that has been around twice as long as us, and who have always provided us with great looking coats and shawls.
Who said you have to sacrifice fashion while being comfortable in the colder parts of the year? Pendleton coats and shawls allow you to look good the whole year around. You have to have your finger on the pulse to have been out ahead of the pack like Pendleton for all thise time, and when you get your outfit from us you'll be running alongside them.
Made in America, and after all this time, part of the tradition of looking good. Whether you get a coat or a shawl you will know you made the right choice, and your friends will be asking you where you get your clothes – feel free to tell them, as we have plenty for all.
Often called the originator of classic, authentic American style, Pendleton is a company with a proud heritage and a name that still stands for quality and meticulous attention to detail. We like the fact that it's an American company that's been around for over 100 years and through 6 generations of the same family – now that's impressive!